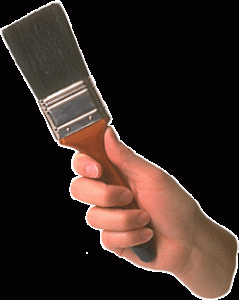 When it comes to painting and decorating your Athens home, it's important to select the right paint brush for the job. Brushes vary a great deal in cost, size and quality.
Paint brushes are either made from synthetic fibers or natural hairs. Natural hair brushes tend to be more expensive and are recommended for use with oil-based paints. Painting on the surface rather than simply applying the paint, natural brushes leave a smoother finish. Synthetic brushes can be used with all paints but normally with water-based, emulsion paints.
Polyester
These give a smoother finish and tend to be more thorough than other synthetic paint brushes. Polyester brushes are also easier to clean, and hold and release more paint when in use. As polyester brushes are synthetic they are normally used for water-based paints instead of oil-based as the bristles are not soft enough to not leave brush marks.
Nylon
Particularly suited for a rough surface, nylon brushes are durable and fairly stiff so can cope with thick paints. Nylon brushes are best used with acrylics or latex rather than oil-based paints as although these brushes are good at holding their shape, they can lack the softness needed to apply the paint smoothly and without leaving marks.
Ox hair blend
As a natural hair product, these brushes are ideal for use as a varnish brush because of the softness of the bristles. They are usually a blend of Ox hair with white bristles, black bristles or synthetic bristles. Brushes like this one should not be used with water-based paints as they absorb water and struggle to achieve a good finish as a result.
Whenever in doubt, consult your Athens painting contractor as to the most efficient brush for any painting project you might be undertaking.