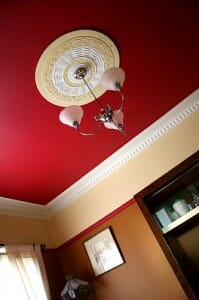 Look up. What do you see? If you're in your Athens home, you're looking at your ceilings. Ever wonder why they're most often painted white? Do your ceilings appear too high in some areas or too low in other areas, making it difficult for you to make decorating decisions? The answer to these questions could be as simple as a can of paint. Painted ceilings are something we'll gradually be seeing a lot more of because they are a great way to solve common decorating problems.
That's Right! Painting ceilings an actual color can resolve decorating problems and complete the look and feel of a room tremendously. This may be a painting project best handled by your Athens painting contractor who will have the appropriate equipment to make what could be an awkward project much easier. A few tips to consider when choosing a ceiling paint color:
Choose a color one shade lighter than the walls for the appearance of higher ceilings and more space.
Choose a color one shade darker than the walls for the appearance of lower ceilings and more coziness.
Choose a complementary color and paint the walls and ceilings in a completely different color for a more evocative or inspirational atmosphere.
Painted ceilings will allow you to magically transform rooms and resolve decorating dilemmas; making a room with very high ceilings appear warm and cozy by painting ceilings a darker color or making smaller rooms appear larger by painting ceilings a lighter color.
Ceilings can also be painted a completely different color than the walls. For example, bright pink walls with a sky blue ceiling can provide a dreamy effect in a kid or teenage bedroom. On the other hand, an adult room can feel encapsulated with the walls and ceilings in varying shades of the same color.
Your ceilings are a part of the room that should not be neglected. Just because the builder took the easy way out, followed tradition and sprayed the popcorn, star burst or laid the dry wall in white, doesn't mean you have to live with it. Ceilings need love, too. Show them some love by making them a part of the rest of the room!
Article Source: https://EzineArticles.com/?expert=Tia_Woodley