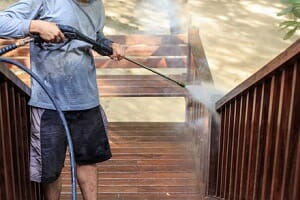 Your home requires a lot of upkeep to maintain its well-being. You need to address components such as its roof, HVAC system, foundation, gutter work, and more on an annual basis.
And among all of this practical work, you'll still need to be sure that your home LOOKS great. But that's just another chore to pile on top of everything else you have to do to keep your home going strong.
But the process of making your home look beautiful doesn't have to be very much to add on at all — not when you can get professional pressure washing in Athens.
A pressure washing can make your home sparkle like new while also providing some great practical benefits that promise to ensure the well-being of your home. If you want a beautiful home while also keeping it in the best shape possible, then hire a professional pressure washing expert today, and you can enjoy the benefits of pressure washing in Athens, GA!
Your Decks Will Sparkle Like New with Pressure Cleaning
A deck is your personal paradise right in your backyard. Just take one step out of your back door, and you'll walk smack-dab into a personal vacation spot. With a deck, you can unwind after a long day at the office or entertain friends and family with drinks and a barbecue.
Your deck is bound to get put to great use, that's for sure. So much use, in fact, that it's inevitably going to begin to show signs of all that use — and not good signs.
Once this happens, your paradise at the back door will begin to look more like a barge in the backyard. Stains, discoloration, and all other manners of messiness will abound, and it might be all but impossible to derive any sort of pleasure out of your deck any longer.
Should this happen to your deck, then just pressure wash back the paradise. A pressure washing will get your deck sparkling like brand new again, and on top of that, a professional washing will blast away mold and mildew that might have developed over time, leaving your deck beautiful and safe for gatherings once more!
With Power Washing Your Driveway Can Be Stain-Free
Your driveway gets put through the wringer every day. You drive on it and park on it, and when your car springs a leak, your driveway is the first to know about it. And the elements can accost your driveway any time of the day or night.
With all of this constant battering, it's no wonder your driveway can be reduced to a blotchy, stained mess. And once that happens, the general look of your home could take a nosedive.
If you're tired of looking at a stained, unsightly driveway, just call for a pressure washing! A pressure washing will knock years of oil, dirt, grime, and general wear off your driveway in no time flat. Your driveway will look better, and so will your house by comparison. And the best part?
Better curb appeal! That's right: If you ever want to sell your home, a clean, sparkling driveway is the best way to get customers' attention. After all, a dirty, oil-stained driveway is bound to deter potential buyers, so it's best to knock that problem out before it keeps you from making a sell; and the best way to do that is with professional pressure washing in Athens!
A Proper Clean Can Make Your Roof Look Brand New
Your roof actually won't get a pressure washing — or at least it SHOULDN'T get one. Instead, your roof will get what's known as a soft washing: basically a pressure washing, hold the pressure.
But why should your roof ever need a cleaning? After all, unlike your deck and driveway, your roof won't be subjected to daily traffic, spills, and the like. All it has to deal with is the weather . . .
Which can actually do quite a number on your roof. The outside world is full of moisture, and much of it comes from the sky: rain, sleet, snow, hail. And when moisture rains down from above, your roof is the first to know about it. After enough years of being assaulted with all of life's moisture, your roof can begin to look a little shabby. Stains and discoloration can occur, leaving your roof and, by association, your home looking decidedly unattractive.
If your roof has degraded to a shabby, stained state, then order a professional soft washing. This process will remove all of the unsightly blotches and discolorations from your roof without damaging the roof itself, making your roof look beautiful and new again.
An added bonus is that your roof will function better after a cleaning. A roof that takes on too much water can begin to leak and cause all sorts of water damage to your home. A cleaning can handle that problem while also making your roof look brand new!
Find an Athens Pressure Washing Expert You Can Trust
To get the most out of your pressure washing, you'll want to get it from an experienced expert, and with over 20 years of experience, the Athens painters at BCI Painting are just the experts to get your home looking stunning with pressure washing.
Don't wait to get the most beautiful home possible. Just call BCI Painting, and enjoy that home TODAY.