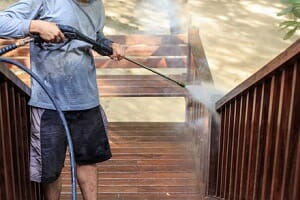 Pressure washing and pressure cleaning in Athens are excellent ways to knock the dirt and grime off of surfaces around the home. Pressure cleaners are designed to apply highly pressurized water, combined with powerful cleaning agent to home exteriors, patios, privacy fences, and a host of other services on any property that can get grimy over time. Unfortunately, pressure cleaning is not an easy job. In most cases, it's not practical for homeowner to take this task on as a do-it-yourself project.
Using a pressure cleaner is more convenient, faster, and more effective than simply making an attempt to scrub the surface with a scrub brush, sponge, and soapy water. Using a high-grade pressure washer can take years off of the surface of siding, fencing, or concrete. In most cases residential pressure washers are low-grade and are far more limiting than are the professional grade variety. Commercial pressure cleaners are equipped with tools that can turn a pressure cleaner into virtual magic wand to transform a home from top to bottom.
Professional pressure cleaners can even heat cleaning solutions to temperature of 330°F. High temperature pressure washers are very successful in removing hard to clean substances like oil, emulsion, tree sap, et cetera. Because these professional grade pressure cleaners can be switched from cold water settings to hot water settings, money is saved in electricity because hot water is only used on areas where it's absolutely necessary.
Top-level pressure cleaning machines are also set apart because of their advancements in technology. These machines are not available to the average consumer in the designed to be operated by professionals. The new technical features are designed to optimize the pressure washing experience, ensuring the most bang for the buck.
These high-quality pressure cleaning machines can be adjusted between 1500 psi and 300 psi. Adjustable pressure allows the pressure washing unit to easily transition between indoor and outdoor surfaces. These machines are also designed to heat up in a matter of seconds and hose length can range of up to 300 feet.
Homeowners are encouraged to hire professional Athens pressure cleaning team to bring new life to those hard to reach home surfaces. As spring approaches, it's time to punch up curb appeal and spend some time sprucing up the exteriors of our homes. Consider hiring a professional pressure cleaning team to transform your privacy fence, driveway, sidewalk, siding, and Windows. You'll find that utilizing a pressure washing service is like giving your home a facelift.