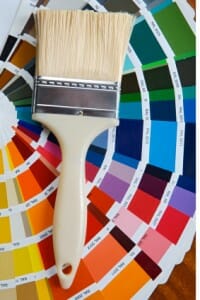 Having the inside of the home painted can bring about much joy. It's nice to look at colorful walls as opposed to the white, dirty ones that once stood. But interior paints have a special factor to them. Campton interior painting can affect your mood(s).
Colors have been known to affect moods. There are countless choices for interior paint colors as they are chosen based on personal taste. As human beings, we make choices in life based on our wants, needs, and mood.
Think about it; if you're in a bad mood, you're probably seeing the color red or black. These colors tend to validate the fact that we are angry. They are also an indicative of the tone of the room as well.
On the other hand, if we are in a good mood, we normally associate blue and yellows. These are indicative of the sun and clouds which makes many of us happy. Lighter colors tend to produce better moods needless to say.
Campton interior paint colors can be a game changer when it comes to moods. Neutral colors make us feel mediocre and warm colors such as red, orange, and yellow are considered to be exciting and energetic.
Blues- Tranquility
Yellow- Bright
Orange- Active
Red – Lively
Green – Cozy
Gold- Rich
Purple – Daring
You can call your local painting company to see if they offer color consultations. A color consultant can help get you the right color for your room(s). We're affected by color and moved by looks as this is the general philosophy behind interior paint and moods.
Each room of a home has a different feel which is also considered the tone of a room as well. Take the bedroom for example. The bedroom is made for sleeping and television viewing. It should have a calm sense to it.
The kitchen, on the other hand, is an area where people gather and socialize as well as feast. It should be an area of excitement. Brighter colors tend to pop in the kitchen such as bright yellows.
Your living room is an area that is affected by interior paint. You don't want it too bright as that will throw off the look of the living room. But too dark will put family and guests to sleep. Neutral tones are best in this area.
Contact the Campton interior painters at BCI Painting, Inc. You'll be pleasantly surprised at what a great job they can do to your walls. They offer a much higher level of customer service for all their customers.