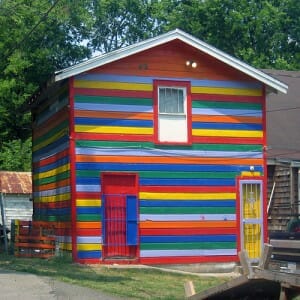 It's time to paint. And, speaking of your new house colors…What exterior colors are you planning to use for your exterior painting project?
Is it for a complete repainting of your Reno home or other building, or maybe adding a few accents to bring some "snap" to your existing color scheme? Even a house with a conservative, subtle color palette can benefit from a small adjustment.
To provide a little help, here are a few tips (well, 13 tips all together) for individual Reno homeowners and building professionals.
When you start to think about colors for painting your existing home, a renovation, or new construction…
Homeowners
From a small Cape Cod style house to a Victorian mansion, your best color choices are the ones you carefully consider.
Assess the current condition of your siding, eaves, other trim and architectural details.
Porches are a great place to introduce new color: Floors, Ceilings, and Trim.
Alcoves, niches, window seats: all are candidates for minor revisions with color and sheen.
Even homes with less architectural detail will be more elegant and distinctive with the right color additions.
Are you planning some landscaping? Coordinate your house color with property updates.
Builders: Single family or a development
Building a single Spec-house, or an entire neighborhood? There's a lot to consider when it comes to color.
Multiple, adjacent homes do not have to be made in the same color schemes
The colors you use have a lot to say to–and about–the buyers you attract.
The best color plan will include all your building materials to create the most interesting and appealing properties.
Color is what your customers will notice first. Make it count!
Now can be the time that you expand your own color-horizons.
You can break out of the typical format of "3 colors" for your Reno home.
Try a 5-color palette, even on a more simple structure. It will look more interesting.
Keep your house colors harmonious with your surroundings, appropriate to the architecture of your own home, and fitting in the neighborhood. All are important.
The key is to use the right colors in the right places, where tasteful and imaginative colors will enhance a simply-structured house as well as one with multiple architectural elements and embellishments.
Sometimes it's helpful to see what your home, or other building, will look like before you paint! One way is with a services like Designer Color Palettes, which uses colors you may have already selected but want to see how they will look. Other options exist as well. And of course, consulting your Reno painting contractor is always a wise choice.
Article Source: https://EzineArticles.com/?expert=Barbara_Jacobs