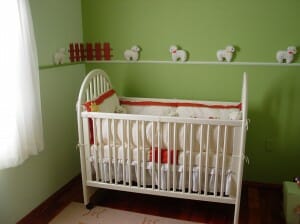 Are you unsure as to which color to paint your baby nursery? Are you re-decorating a nursery to become a toddler room? Either way, deciding which colors to use for your children's bedroom painting project can be tough. Most often parents seeking advice on decorating are told to paint according to a bedding set that they have chosen. Typically this is the easiest way to choose. What most parents miss though, is some very interesting information regarding psychology and color. Your Athens painting contractor will be a great resource for information about the effects various colors can have on mood, although it never hurt to do a little research before going into a consultation.
Different colors affect each of us in various ways. However, there are some basic principles that seem to remain a constant for most everyone. Below are brief descriptions of how each color family affects our moods and emotions.
Yellow: Known as a soft calming color, yellow has the ability to create a warm sunny feel which brightens and brings warmth to a dim room. Yellow is also known for its ability to stimulate muscle activity. A great choice for a baby nursery.
White: Predominently representing cleanliness and purity, white also symbolizes peace and joy. Rooms will feel larger and brighter because this color reflects 80% of light. Maybe not the most exciting color for a child's room but could create a beautiful room when accented with a bright colorful kids bedding set and coordinating accessories.
Blue: Peace, wisdom and confidence are all affects of an Athens room painted in a soft blue shade. This is a great color for either a baby nursery or for a kids bedroom because it produces a calming affect that prepares the body for sleep.
Green: A refreshing color that is known to reinforce self-esteem and suggest hope. Green is a very uplifting color for a teen bedroom because often that is the stage in life where they are feeling a lot of peer pressure and they need to really feel strong in their self-esteem.
Red: Bright reds increase desire, excitability and passion. Red can be used as an accent color to brighten up an Athens room but is not recommended as a primary decor color. Especially for a child how may already struggle with having quiet times.
Purple: When darker shades of purple are used, they typically represent royalty, power, and luxury. However, these deep tones can also evoke feelings of sadness and frustration. Lighter shades create a more peaceful and nostalgic feeling and are often used in a girls bedroom.
Earth Tones: Greys, browns and beige are an excellent choice for hyperactive children. These colors represent warmth, comfort, and relaxation. The muted ground colors are best and would look great with a camouflage boys bedding set.
Whichever color you choose to paint your baby nursery, child room, or teen bedroom, the decision should be a fun one. Don't over analyze, just try to take into consideration your child's personality and also the furniture and space that you are working with. Put a lot of focus on the lighting in your Athens room because natural vs false light makes and amazing amount of difference on the wall color.
Article Source: https://EzineArticles.com/?expert=Heidi_Neufeld