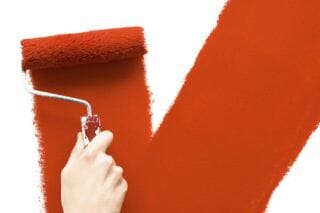 The truth of the matter is, the interior painting preparation for your Athens home is the biggest part of the process. Most homeowners envision painting as a fairly easy job, one that they can take on themselves. However, this could not be further from the truth.
Ask anyone who has ever attempted to DIY an interior painting job and they will tell you it is worth hiring a pro, just to get out of having to prep the space. However, in case you are considering attempting this on your own, you should at least get a better understanding of what all is involved.
Getting the Room Ready
Some of the preparation steps required may be something that you will do on your own, prior to the arrival of your painting contractor. An example of this would be to move furnishings that may be in the way and that you do not want to risk having damaged. Some of the other preparation steps include:
Surface preparation including dealing with blemishes or repair needs, such as popped nails. These surface flaws must be addressed in order to create a smooth, flat and clean surface for painting. Otherwise, you may like the new paint color but will not be pleased with the final outcome of the appearance of the wall.
Scrubbing and sanding the surfaces is also a vital task. You cannot paint over the wall, as it is now in its current state. Unless your wall is newly primed, you need to prep it. Sanding it down helps remove debris you may not even be able to see, but that would get in the way of allowing the paint to properly adhere to it. After sanding, the wall must be cleaned off to remove dust that would also interfere with paint clinging to the surface.
Of course taping is another necessary evil. This is important to do in places like where the wall meets the ceiling, the floor, trim or where two colors will meet. The tape must be secure with no gaps or paint will seep in. It is also important not to leave the tape up too long or you will end up with it stuck and peeling off the other paint, during the removal process.
Bring in the Experts for Interior Painting Preparation
The smart thing to do is hand the job over to your local expert team of Athens painters, BCI Painting, Inc. We will not only take care of all the prep work, we will provide you with the best final results possible. You are going to love the final look, we guarantee it.