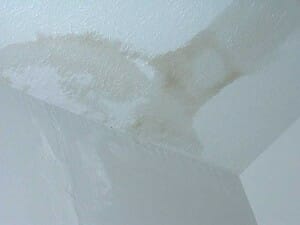 If you have had a ceiling leak and the roof has been repaired, now you are faced with having to paint the ceiling. It isn't a difficult job and can easily be accomplished by the Athens homeowner, but it takes some preparation to do it correctly and not have to re do it. It may take a couple of days to finish the entire process also. If you have any doubts about completing this task, don't hesitate to call your Athens painting contractor.
What you'll need:
Oil based primer
Paint brushes
Ceiling Paint
Paint roller and extension handle
Paint tray
Drop cloths
Rags
Drywall or spackling compound
Putty knife
Step One
Before you start to prime or paint be certain it is no longer leaking. If you've had a few rainstorms in Athens and no drops, then you are fine to continue. Most likely you have a large brownish stain on your ceiling, these can be difficult to cover. If there are blisters or bumps in the paint or drywall you need to scrape those away gently and fill with spackling compound. When dry, sand lightly to smooth the area.
Step Two
The most important part of this job is the primer. Don't skip this step. You may think you can put on several coats of paint and it will cover the water marks. It may work for a while but eventually these hard to cover stains will work through your new paint. So with that thought in mind, cover the entire ceiling with the oil based primer. You need good ventilation for this as it does have a strong odor. Open all available windows and have a fan running if possible. There are primers specifically for ceilings so you can use one of those but for most painting jobs, you can't beat an oil based primer. It does the job right the first time.
Step Three
Once the primer has completely dried, which may take up to 24 hours, you are ready to paint. At this point you can use any type of paint including paints that are made specifically for ceilings. Many of these paints now roll on in a light color such as pink or blue and they dry white. This is to help you see where you've missed and if you are applying the paint evenly. Those types of paint are thinner and roll on quickly but usually require two coats to avoid streaking. Put down your drop cloths as painting a ceiling can be messy. If you have any furniture in the room, cover it also. You may want to wear a head covering and remove your glasses if you wear them. Apply according to the directions on the can. If you are doing two coats, apply one in one direction and the second in another direction.
Step Four
Clean up any splatters or spills while they are still damp. Its much easier then than scraping it off later. Don't forget to check the glass in your windows. After both coats of paint have dried, check your work by turning on all the lights in the room. You may discover areas that are a bit lighter if you have used the thinner ceiling paint. Now is the time to re roll those areas.