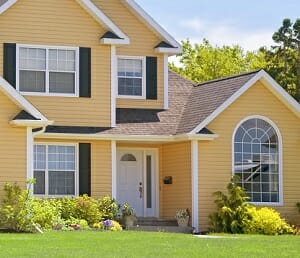 Because the exterior of your home is constantly exposed to the weather, it needs a little more upkeep than the inside does. Your home's exterior paint job most of all will require extra touching up and retouching over the years. But is your home's paint job really that susceptible to quick wear and tear? And are there any real benefits of exterior painting in Athens, GA that will make the investment worthwhile?
The answer is yes, for both! For one thing, nature is rife with moisture: rain, snow, humidity, etc. Moisture can cause residential and commercial exterior painting in Athens to swell and deflate, and this fluctuation can result in blistering, flaking, and peeling over time.
Add in the sun, which causes your paint to fade over time, and you have a combination for a paint job that hardly has half a chance to survive. Frustrating, right? But, unfortunately, it's not like you can take your exterior paint job and move it inside — that would be impossible.
So what IS possible when it comes to keeping your exterior paint job looking great in the face of the damaging elements?
The answer is simple: Get a new, high-quality coat of exterior paint by a team of experienced Athens painters! A new coat of paint can last anywhere from 5 – 10 years, depending on your home's material. So for just a few days of labor, you can enjoy a beautiful new coat of paint for upwards of a decade!
But aesthetics aren't the only benefit you'll enjoy with a new paint job. You'll also enjoy some great benefits for the lifespan and well-being of your home! These benefits include the following:
Proper Exterior Painting in Athens Protects Against Termites
Termites: Just the word alone can send chills down any homeowner's spine. They're hardly any bigger than a grain of rice, but they can cause colossal damages as they gnaw away at your home's wooden supports.
Termites can enter into your home's woodworks via little niches and cracks that develop about your paint job as the wear to your paint advances. To combat this problem, you obviously need to FILL those niches and cracks. And the best way to do that?
With a new paint job! A new paint job will seal up those exposed areas that are open to damage from termites and other pests, thus keeping your home safe against these rice-sized consumers of homes.
Also Helps Find Problems
A lot of work goes into an exterior paint job. The entire outside of your home needs to be prepped with a thorough sanding, caulk should be removed, and most helpfully, surface flaws should be examined and repaired.
That last step is the one that benefits your home the most. As your painting crew members prepare your home's exterior, they can locate other issues that you might not have known about. These issues can include rot, mold growth, and water damage.
Thus, while you sit back and wait to enjoy a beautiful new paint job, you can also rest assured knowing that your paint crew will be finding issues present on the outside of your home.
An Exterior Paint Job Increases Curb Appeal
After dealing with the issue of termites and structural problems, your new exterior painting will offer one final benefit: increased curb appeal!
If you are in the market to sell your home, you want your home to catch buyers' eyes. And a home with a faded, splintering paint job will scare potential buyers away. But a home with a beautiful new paint job will draw in shoppers like crazy!
Another benefit that a fresh coat of paint offers to home sellers: It can increase your property value! So not only will it help draw in customers, but it will also let you slap on a larger price tag when those customers decide to buy.
Get An Experienced Athens Exterior Painting Expert
To get the most out of your exterior home painting, you need to enlist the help of an experienced painting expert, and if you live in Athens or one of the surrounding areas, then we at BCI Painting are just the expert for you. With our 20-plus years in the business, we have all the skills and experience to get your home looking great and staying safe for many years to come!