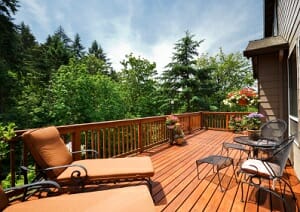 A deck is one of the best investments could make. It provides you with a beautiful place to go and enjoy the summer nights with friends and family. You can cook, drink, and just unwind after a long day or week. And all the while, a deck will increase the value of your home, making it one of the best choices you can make for your relaxation and your bank account.
For such a great investment, you'll want to keep your deck looking beautiful. After all, with its constant exposure to the weather and all the use you'll put it to, your deck is bound to start looking a little less than beautiful in time. And should that happen, you won't get to enjoy the full benefits that your deck can offer. It's pretty hard to relax when you're surrounded by stains and wear. And a worn deck is worth far less than a beautiful one.
To continue enjoying these benefits, you'll want to do what you can to ensure that your deck continues to look beautiful for as long as possible. And what are these things you can do to keep your deck looking great? Here are some great tips for keeping decks in Athens looking beautiful.
Pressure Washing is the Key to a Clean Deck
The quickest way to make a worn, old deck look new again is with a pressure washing. A pressure washing can blast away years of dirt, stains, and discoloration in just an afternoon, leaving your old deck looking brand new and ready for entertaining guests.
Perhaps the best benefit to a pressure washing is that it can knock away mold and mildew that develop over time. The near constant moisture that the outdoors subject your deck to can cause those harmful growths, and breathing them in can be detrimental to your health. But with a pressure washing, your deck can be mold-and-mildew-free, and you can enjoy your deck without any health benefits!
Professional Deck Staining in Athens
The wood used to construct your deck can be beautiful. The colors and patterns can make your deck and your home POP. Indeed, a deck can be a work of art — but only if those colors and patterns are accentuated. But how do you accentuate them?
With proper deck staining in Athens, of course!
A deck staining will take the already naturally beautiful colors of your deck and accentuate them, sharpen them, and make their colors EXPLODE. If you thought your deck were already beautiful, then your jaw will absolutely hit the ground once you see it after a staining!
Don't Forget Proper Deck Sealing!
Once you've pressure washed away your deck's stains and and applied a stain to make its colors stand out, you'll want to keep it that clean and beautiful. And the best way to do that is with a sealer.
A deck sealing does what it sounds like it would: It seals your deck. A deck sealing seals in your staining and protects it against the weather and constant use. If you want to continue enjoying the benefits that the other work you did on your deck, then a sealing is necessary. Otherwise, it won't be too long before your deck is back to looking worn and faded again.
Rely on the Experts for the Best Results
To get the most out of your deck work, you need to hire professional Athens painters that are experienced in deck sealing and staining work. And if you live in Athens or one of the surrounding areas, then BCI Painting is just the expert for you. With 20-plus years of experience, we at BCI Painting have the experience and skills to get your old deck looking like new again!